Baby wearing evidence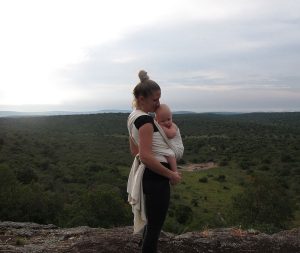 Baby wearing, the practice of wearing your baby in a wrap, sling or other form of carrier, has been practiced for centuries all over the world. Contrary to what many believe, baby wearing has also been practiced in the west for centuries. It's only in the last few decades that society has drifted away from baby wearing. However, recently parents are getting more focused on baby wearing and the benefits associated with the practice.
The benefits of baby wearing are numerous and span physical, emotional and social parts of wellbeing. At Weaverbirds we value an evidence-informed approach. The scientific evidence for benefits of baby wearing is based on identified benefits of
increased physical contact between parent and child, for example in studies on kangaroo care, in-arms holding, and use of soft carriers.  For example, a randomized controlled trial confirmed that infants who were held cried significantly less compared to infants who were held less. A Cochrane systematic review on methods such as Kangaroo Care has received much academic attention amongst preterm babies and the benefits of holding your baby is well-documented.
Below we've listed the benefits of baby wearing which to date have been academically researched as well as reported by health care providers and babywearers. At the bottom of the page you will find links to the relevant peer reviewed articles. As the evidence base increases we will continue to update the list.
Reported benefits of baby wearing:
positive effects on breastfeeding
babies who are carried cry less
mothers carrying their infants have been found to be more responsive to their infant's vocalizations
improved state organization and motor system modulation
babies who are held close are more able to regulate their own physiological functions
Scientific Articles
Anderson G. C., Moor E., Hepworth J., Bergman N. (2003). Early skin-to-skin contact for mothers and their
healthy newborn infants. Cochrane Database Systematic Reviews. https://www.jstor.org/stable/1130769?seq=1#page_scan_tab_contents
Anderson, G. C. (1991). Current knowledge about skin-to-skin (kangaroo) care for preterm infants. Journal of
Perinatology, Vol. 11, pp. 216-226. http://europepmc.org/abstract/med/1919818
Anisfeld, E., Casper, V., Nozyce, M., & Cunningham, N., 1990, Does infant carrying promote attachment?
An experimental study of the effects of increased physical contact on the development of attachment., Child Development. Vol. 61. Issue 5, pp. 1617-27. http://www.ncbi.nlm.nih.gov/pubmed/2245751
Hunziker U.A., Garr R. G. (1986). Increased carrying reduces infant crying: A randomized controlled trial.
Pediatrics Vol. 77, pp. 641-648 http://pediatrics.aappublications.org/content/77/5/641
Russell N. U. (2015). Babywearing in the Age of the Internet, Journal of Family Issues, Vol. 36, Issue 9,
pp. 1130–1153 http://journals.sagepub.com/doi/pdf/10.1177/0192513X14533547
Books
Blois, M. (2005). Babywearing: The benefits and beauty of this ancient tradition. Amarillo, TX: Pharmasoft.
Blois M. (2007-8). Hold me close: encouraging essential mother/baby physical contact, from Birth: Care of Infant and Mother: Time Sensitive Issues." Best Practices in the Behavioral Management of Health from Preconception to Adolescence, edited by William Gordon and Jodie Trafton. Los Altos: Institute for Disease Management. pp. 108-132.
Russell, N. U. (2014). Aspects of baby wrappings: Swaddling, carrying and wearing. In S. Harris & L. Douny (Eds.), Wrapping and unwrapping material culture: Archaeological and anthropological perspectives. pp. 43-58. Walnut Creek, CA: Left Coast Press.
Further Reading