About Weaverbirds
Weaverbirds is a social enterprise producing handwoven baby wraps in a fair-trade manner, from locally sourced sustainable cotton certified by the Cotton made in Africa (CmiA) initiative. Weaverbirds focuses on sustainability for people and planet in every aspect of the production.
Weaverbirds baby wraps are a 100% Ugandan product: The cotton is grown and harvested in rural Uganda and spun and dyed at Fine Spinners Ltd. Kampala. The cotton yarn is then woven at a vocational training center in Kampala providing sustainable and fair wages to experienced weavers as well as providing skills training and job opportunities to novel weavers.
Our vision is to deepen the bond between parent and child while being stewards of our planet. Weaverbirds was founded with the wish and intention to support the Ugandan community through manufacturing in a sustainable manner. We aim to operate under the highest ethical and social standards. We are proud of the work we do, the products we make and our business conduct.
The real weaverbirds and how we do it
Our amazing weavers make us what we are!
We pay our team more than double the market standard in Uganda. The pay is far less than standard Scandinavian salaries, however they are beyond satisfactory in a local context. In addition we pay bonus for each meter woven and we pay Christmas bonus equal to approx. 2 months salary. Because the weavers work as independent entrepreneurs we offer high flexibility and they can individually decide how much they want to work and take time off as they like to visit family or pursue further education. We do not exclude anyone from working with us.
We wish to go beyond the standard of fair-trade. To us 'Fair-trade' is the lowest common denominator for fair working conditions.
We do not claim to save the world but we wish to prove to the world that it is possible to run a business in a sustainable manner. We wish to inspire other small business to do the same and we wish to put Uganda on the world map as a country with a endless potential.
We also wish to challenge the concept of success and how we measure success. We believe that Weaverbirds is a success. Not because we have managed to stay in business since 2017 or because we have managed to generate a tiny profit, but because we are able to employ our team under fair conditions, because they get acknowledged for their effort and because everyone is treated as equal humans.
We constantly evolve and learn. We have over the years learned a lot about how to run a socio-economic project and a small scale business and brand in a developing nation. We are never certain that what we are doing is right but we constantly evaluate and fine tune our model to be inline with our values.  And maybe most importantly – we always try hard to do the right thing.
Thanks for reading through this.
Liv, Founder and Owner of Weaverbirds
Our Ambassador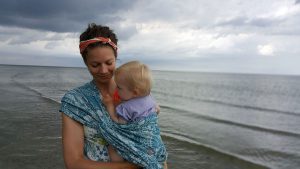 We are extremely proud to have Lotte Hald as our ambassador. Lotte is the mother of three girls, the owner of the company Slyngejordemoder (www.slyngejordemoder.dk), a passionate midwife, and baby wearing consultant. Weaverbirds and Lotte met through a mutual midwife friend who visited Uganda, and we never looked back. We feel very lucky to have developed a strong and warm partnership with such an amazing and versatile ambassador.
With your support, our team of Weaverbirds will continue to grow.